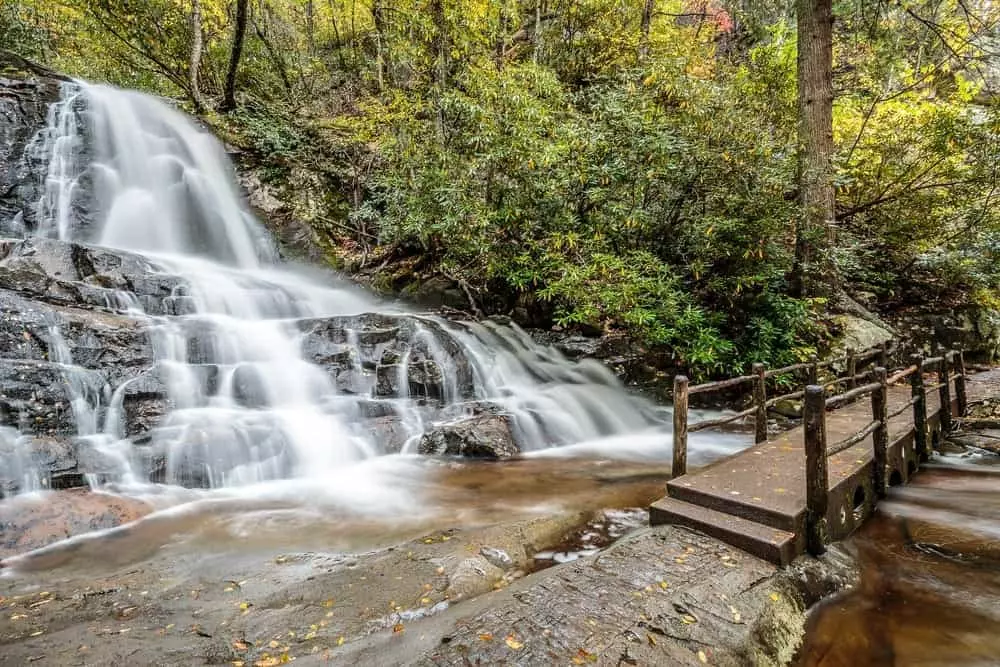 May 8, 2018
The Great Smoky Mountains National Park is home to over 800 miles worth of hiking trails! Some lead to amazing mountain views or waterfalls and are difficult in skill level while others are easier to navigate. Hiking can be a fantastic family bonding activity and is great way to be active. So, we have narrowed down five of the best hiking trails in the Smoky Mountains to bring your kids along to!
1. Laurel Falls
Laurel Falls is one of the most popular hiking trails in the Smoky Mountains. The roundtrip length is 2.3 miles. It's a gentle uphill climb to the waterfall, and all downhill on the hike back. The great reasons this trail is perfect to bring kids along to is that it's paved! Laurel Falls is a two-tiered waterfall and has a footbridge so that you walk over the water to get some fantastic pictures!
2. Gatlinburg Trail
The Gatlinburg Trail is one of the flattest and easiest to get to hiking trails in the Smoky Mountains. The roundtrip length is 3.8 miles, but is flat and travels from the Sugarlands Visitor Center to the edge of Gatlinburg. You can access at either end. The trail follows along the river which you will get to cross over on a beautiful bridge. The overall hike is very peaceful and lets you explore the Smoky Mountains in an easy way making it ideal for children.
3. Grotto Falls
Grotto Falls is a beautiful trail. It is 2.6 miles roundtrip, and does have some steep inclines at some points. However, this path is well-worn from a lot of foot traffic over the years making it easier to navigate. Grotto Falls is 25 feet high, and is one of few waterfalls in the national park that you can actually explore the back of. Of course, it is neat to walk behind the water, but be very careful as it can be slippery on the wet rocks.
4. Andrews Bald
Andrews Bald is a great hiking destination in the park. Round trip the hike is 3.5 miles. There are a lot of downhill sections going to Andrews Bald, and so you'll be going up when you come back. However, once you reach the bald you'll be treated to awesome views of the mountains! It also makes the perfect place to rest and have a picnic with the kids at.
5. Clingmans Dome
Clingmans Dome is the highest point in the Smoky Mountains at 6,643 feet! Round trip the hike is a little over a mile. The trail is pretty steep climbing. However, it is paved making it easier to navigate. Plus, often trails like this are no problem for excited children. This hike can be strenuous to some, but many visitors find the climb worth it. Moreover, it will create lifelong long memories for you and your children.
These hiking trails in the Smoky Mountains are sure to leave a lasting impression on you and your kids, so that you have memories to share. Make even more memories when you stay with us at the Sidney James Mountain Lodge and get to have a nice room with tons of amenities everyone will love.