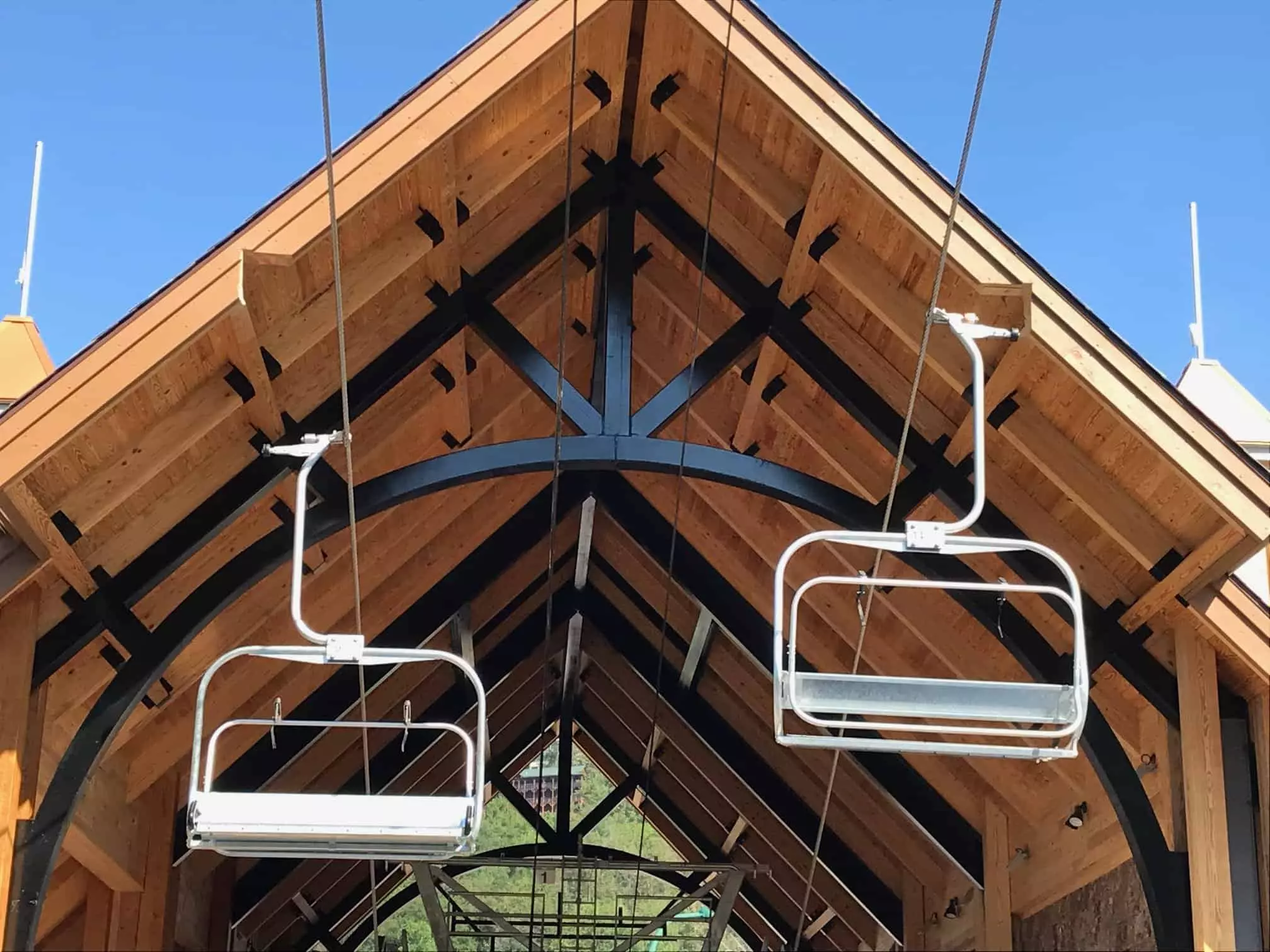 June 15, 2017
At Sidney James Mountain Lodge, downtown Gatlinburg is just a short walk away. In downtown Gatlinburg, you can find many exciting things to do, such as taking in the views at the Great Smoky Mountains National Park, walking along the strip or you can relive your childhood fantasies in the new magical tree house themed attraction, Anakeesta, opening in summer 2017. This new Gatlinburg attraction is family friendly and includes restaurants, lodging, retail, and aerial adventures that are fun for all ages. Adventure awaits around every corner!
Check out these 5 fun things to do at Anakeesta Aerial Adventure Park:
1. Ride the Chondola
What is a Chondola? The Chondola is a unique chairlift that will transport guests to the summit of Anakeesta Mountain. Guests can enjoy spectacular views with the option of riding in an open air quad chair or in the privacy of a six person enclosed gondola cabin. The ride only takes about 12 minutes over the tree canopies.
2. Shop at FireFly Village
Experience the unique shopping at FireFly Village, which features tree house themed retail stores. Each store offers handmade items such as jewelry, clothing, unique gifts, local crafts, and candies. The village also offers food and beverage concessions, restrooms and souvenir shopping.
3. Enjoy scenic overlooks
Anakeesta offers the most incredible 360 degree views of the surrounding mountains, including Mt. Leconte. Guests will also have a unique view of the glittering lights of downtown Gatlinburg. Guests can also relax and dine with family and friends at shaded picnic pavilions while enjoying a sunset view!
4. Treetop adventures for all ages
Get a bird's eye view in the Tree Canopy walk that is elevated 40-60 feet above the ground, along with a series of hanging bridges that connect the forest trees. Families of all ages can also swing, hang, and play on the Children's Treehouse Playground.
5. Thrill rides of all kinds
Soar through the trees on Gatlinburg's fastest dual-racing ziplines. Guests can challenge family and friends to test their limits! Experience the twists and turns of the high-speed single rail mountain coaster along the Anakeesta mountainside.
Anakeesta is located right across the street from Ripley's Aquarium of the Smokies. There is on-site parking available with convenient access.
About Anakeesta Mountain
The ancestry of Anakeesta Mountain dates a long way back, and it all started with a group of strong-minded young women in the Pi Beta Phi Fraternity. In the beginning, they started a settlement school called Pi Beta Phi in order to create literacy in the mountain town of Gatlinburg. In their efforts of giving and learning, they also developed the Arrowmont School of Arts and Crafts, as well as acquiring 77 acres of land, with the original intent to be left unearthed. The bare land was eventually sold to create an ongoing tradition of arts and crafts in order to enlighten visitors of the rich mountain history. And thus, the concept of Anakeesta was born and literally soared into flight!
You can find out more information about the Anakeesta development HERE.
Are you ready to visit Anakeesta? Go ahead and reserve your room at Sidney James Mountain Lodge also located right in downtown Gatlinburg. Start planning your vacation to come and explore this new Gatlinburg attraction!